Second Summer in Hobart 2005-6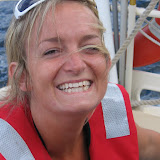 First sail of the summer
Wednesday 9 November 2005
Our second summer in Hobart began early November 2005 with a one week trip to get the boat shipshape. The captain flew in on 3 November, the mate on 6 November. After several days of maintenance work, we went for a day sail on Wednesday 9 November from Kings Pier Marina up-river through the bridge to Cornelian Bay and back, with cousin Claire's daughter Liv for company. We wanted to go out, even if only for a few hours, to give us some practice in berthing and unberthing. It wasn't totally smooth but a big improvement on our first attempt.
We flew back to Melbourne for a week or so, returning to Hobart on 18 November, where we had another couple of days of maintenance before the first of our summer guests arrived. [Top]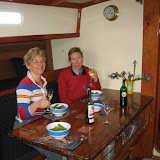 Down the Channel with Janine
Monday 21 to Thursday 24 November 2005
Our friend and best woman Janine Mazzini arrived early Monday morning and we were waiting at the Grand Chancellor to meet her as she came in on the airport shuttle. We had breakfast together at Harbour Lights, visited the Wursthaus, the supermarket and the chandlery before boarding Nahani and leaving Kings Pier at about 1100. We had a southerly wind and had to tack down the Derwent. As with our trip with Mick and Kitty earlier that year, we made slow progress tacking toward Point Pierson in a heavy swell, and had to put the motor on to get into the shelter of the Channel before our guest started to suffer from seasickness. Once in the lee of Bruny Island we anchored, she recovered rapidly and we had lunch off Denys Point. The captain and guest had granny naps. After half an hour the captain awoke, we sailed off the anchor and idled down the Channel at 2-3 knots. We woke Janine when we reached Kettering so that she could enjoy the last stretch into Apollo Bay. We went ashore and had a particularly good barbecue watching the sun set over the hills, sipping a Tahbilk shiraz. As we climbed back into the dinghy the skipper lost his balance and sat heavily on one of the oars, snapping it in two. We steered a very zigzag course back to Nahani with Peter rowing on one side with the intact oar, Helen paddling dragon boat style on the other side with the broken oar.
We woke to rain, which gave us an excuse to sleep in and have a late breakfast. Around 1130 the weather cleared and we sailed out of Apollo, tacked across to Kettering and back into Barnes Bay, going the full length and down into the Duck Pond, where we anchored for lunch. We lazed in the sun for a while, then motored round to Sykes Bay, where we tried unsuccessfully to use our new charcoal barbecue to roast a leg of lamb. On discovering that the barbecue had gone out after about half an hour we moved the roast to the oven and warmed up a chicken casserole for immediate consumption. The sky cleared later and we enjoyed a beautiful starry night followed by an equally lovely bright sunny morning. We had breakfast on deck before heading out of Barnes and further south down the Channel. We alternated sailing and motoring in variable winds, putting up the MPS when it turned to a gentle northeasterly. South of Apollo we were becalmed for a while and ate our lunch before the rise of a sea breeze made us strike the MPS. We used the southerly to sail around in Isthmus Bay, down past Green Island going to windward, then eastwards leaving the island to port, then up to Missionary Bay, sailed in and out again then went across the north side of Green Island on a beam reach, then had a downwind run up to Apollo. We anchored at about 1630 in company of two other boats. One of them, called Family, had two border collies aboard, which caught Janine's interest. Being a dog person, she hailed the owner who came over with the two dogs in his dinghy. We had a chat to Graeme before he continued on to the beach to give the dogs a run. We lazed for a while, then prepared for another barbecue ashore. Graeme obligingly came over to lend us the oars from his dinghy, as we'd told him the story of our mishap on Monday evening (he was using his outboard motor). We used his oars to row in for another gorgeous barbecue on the beach, where we were joined later by Graeme, his wife Pam and the dogs Tess and Bella. Finally we rowed back, returned the oars to Family and had dessert on board before an early night in preparation for an early start back to Hobart.
We were up at 0600, away by 0630 for a very boring trip back to Lindisfarne, motoring all the way. Our rental on the pen at Kings Pier had ended, and the Motor Yacht Club of Tasmania (MYCT) at Lindisfarne was to be Nahani's home for the rest of the summer. We were given a nice easy berth at the end of a jetty, but had to do a tight turn to get lined up, so it still took some concentration and we sustained a scratch. Once safely tied up we removed the jib and took it off to Doyle Fraser for repair, en route dropping Janine on the bus to the airport for her return flight. We cleaned and packed up and left on an evening flight. Moment of panic at the airport when the Captain had doubts about whether he'd accidentally turned on the diesel transfer pump in the packing up process. Emergency calls to the MYCT from the check-in queue solved the problem, and by the time we got off the plane at the other end we had a message, from the Commodore, no less, saying all was OK anyway. Typical helpful Tasmanians.
We were back to Melbourne for a couple of weeks. After that we managed to escape Melbourne for almost all of the next four months, starting on 5 December. Live-aboard life in the MYCT at Lindisfarne was broken by only short returns to Melbourne, and various sailing trips, usually triggered by the arrival of guests:the ship really was Boatel Nahani that summer. [Top]
Cornelian Bay with the Clarkes
7 December 2005
With the repaired jib successfully re-rigged, we had a pleasant afternoon sail across the Derwent with Tom and Anne Clarke. We anchored in Cornelian Bay for a picnic lunch (delicious grub from the Wursthaus, brought by the Clarkes), then sailed back in time for a bit of maintenance work before tea. We had a few more days of general maintenance work before the next guest arrived. [Top]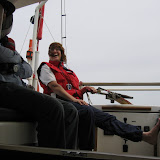 To Dover with Carroll
Monday 12 to Friday 16 December 2005
Carroll Peko arrived on the afternoon of Sunday 11, in time to join a barbecue with Blichfeldt cousins and the Klekar family, into which their daughter Alex is about to marry. On Monday morning, Carroll and Helen zoomed into Lindisfarne for final provisions and we were ready to depart about 1000. We had a very brisk NE which blew us down the Channel in record time – we were anchored in Quarantine Bay shortly after 1300. It was so strong that we had some difficulty getting the jib furled when we turned into Barnes Bay and had the wind on the beam. While we were trying (and failing) to tack up into Quarantine, we were passed by the Jeremy Firth and Penny in Rosinante, and we moored nearby. Later in the afternoon we called them up on the radio and invited them to dinner. Penny decided that there was a god, because they had engine trouble and Jeremy had been trying to fix it all afternoon, rendering her galley inoperable. They joined us for lamb shanks, washed down by several bottles of red. Despite the booze, Jeremy was alert enough to notice that we were dragging. Penny and Carroll attacked the washing up while Jeremy assisted the captain and mate to re-anchor.
On Tuesday we motor-sailed out of Barnes, then sailed in flukey winds, necessitating sail changes all day: reefs in, reefs out, jib on, jib off as the wind went from one direction to another and from nothing to 25kt. After seemingly interminable tacking around Huon Island we flew back and forth on the last tacks and cleared the entrance to Port Cygnet easily, missing the umpteenth fish farm on the starboard side. We powered up to Port Cygnet, pulled off sail and anchored near the yacht club. We rowed ashore, testing our newly purchased oars, walked into Cygnet and ate at the pub. When we returned to Nahani we had fresh raspberries for dessert, bought at the roadside as we walked in.
Rowed ashore again next morning to tie up at a little private jetty attached to a micro boat-building operation that looked like Diver Dan's boatshed. A couple of locals welcomed us through and gave the captain some leads on dinghy repair material. In Cygnet we enjoyed coffee and lunch in the Red Velvet Lounge while doing the washing in the laundromat across the road. We explored Cygnet, taking in the supermarket, an antique shop, and a tiny factory making wooden jigsaw puzzles that the captain found out the back of the local hardware store, where he was buying pop rivetters and such for the dinghy repair job. Laden with clean washing and assorted purchases, we returned to the ship, weighed anchor and set off down Port Cygnet in light winds. We had gusty conditions in the mouth of the Huon, then a more comfortable sail down to Port Esperance in a westerly ranging from light to gusty. We negotiated our way past Faith, Hope and Charity islans (not in that order), and anchored near the fishing jetty.
Wednesday began with a walk into Dover to sample the coffee and delicious pastries in the bakery. On the way in, the captain finally found some scrap aluminium for dinghy mending. Departure from Dover was into an adverse wind and choppy seas, so we motor-sailed across toward Bruny, then tacked up the Channel to Apollo. Carroll had her first experience of steering – not an easy one as she was tacking all the way. The wind dropped as we went North, so we motored the last leg of the journey, anchoring in good time to get ashore with everything required for a barbecue. The evening was a little cool for salad, so we accompanied our steaks with baked potatoes and zucchini cooked in foil with sun-dried tomatoes – yum. Cakes from Dover for pud. As we sat on the beach sipping the last of our wine and watching the fire die down, an unidentified animal about the size of a possum ran down the beach, plunged straight into the water, swam vigorously out in the general direction of Nahani, then did a hard right and was lost to view. We have never worked out what it was.
We were woken next day by a westerly wind shift which necessitated moving to avoid being blown on shore. Made good progress up the Channel in a variable SW wind, then slower progress in the Derwent in much more variable wind conditions. We motored the last stage and berthed at Lindisfarne without a bump. We were back in time for lunch, and after an afternoon relaxing and cleaning up ourselves and the boat, we went to North Hobart to do the washing and eat at "Fish". We walked back down Elizabeth Street to the docks, then took a taxi back in time for a final tidy up before Rosie Tipping, our next guest, arrived. The ship's cat decided he needed a walk, despite rain, so socialising with our guests was interrupted by occasional cat search activities.
Helen went into Lindisfarne to re-provision on Friday morning. Carroll stopped her taxi to the airport in the shopping centre, upsetting the locals by getting the taxi to do a u-turn in a one-way street after she'd said goodbye to Helen. The mate returned to the boat and the captain took the ship round to the fuel jetty to fill up, ready for our next trip with Rosie. [Top]
To Cygnet with Rosie
Saturday 17 to Wednesday 21 December 2005
Our trip with Rosie was full of Events. We began with a storm in the Derwent. We'd observed the darkening sky, distant flashes of lightning and rumbling thunder, but failed to take any sensible precautionary measures like closing cabin windows, taking off some sail, starting the engine, putting in the storm boards, or donning full wet weather gear. As a result all of the above were done in a mad rush when we were hit by a major squall with teeming rain and hail. So much water came into the cockpit that the small shelves on either side filled with water, completely immersing Rosie's watch, which she saved by a swift retrieval and a dexterous toss on to the galley bench below. We didn't in fact manage the full wet weather gear, so we were all soaked from the waist down. Visibility was nil during the squall, so it would also have been useful to have noted our compass course before it hit. But after heading up into the westerly to drop sail, we turned about and headed away from the coast, and when the weather cleared enough to see the land again we were well clear, but quite a long way off course for the Channel entrance. We motor-sailed until we got into the top of the Channel, then anchored off North Bruny for hot soup and a chance to change our wet gear. The rest of the trip was relatively easy in a light NE wind, and we anchored in Alexanders. Event number two – Stove ran out of kero and then we couldn't find the bicycle pump we use to restore pressure after a refill, delaying dinner until about 2030.
We woke to rain on Sunday and decided to have a lay day, reading, doing Christmas cards, maintenance to stove burners and tap washers in the head. The weather cleared in the afternoon and Rosie decided to try her luck fishing. She wins the prize for best fisherperson aboard Nahani – not only did she catch enough flathead for a feed, but she presented them to the cook cleaned, gutted and headless. They were delicious with a bottle of white.
The wind gods were not on our side the next two days. We headed south down the Channel, then west into the Huon River, then north up to Port Cygnet, but managed to have headwinds or no wind nearly all the way, so we were motoring or motor-sailing most of the time, and didn't anchor until about 1930, nine hours after leaving Alexanders. En route we had some head "issues", making us think about replacement of our marine toilet. Rosie found that the electric macerating pump constantly failed to remove something we nicknamed Percy, the ppp (piece of persistent poo). We all cheered when Percy finally departed.
Tuesday was a beautiful sunny morning with a light northerly, and we looked forward to a tail wind leaving Cygnet. We rowed ashore, walked into town, lingered over a coffee which turned into lunch at the Red Velvet Lounge, investigated some shops, then headed back. Just as we were approaching the Yacht Club, the gentle northerly turned into a brisk SW wind, so strong that Peter was making no headway rowing the dinghy with the three of us aboard. Eventually we crept up the bank until well upwind of Nahani, then rowed out into the stream and drifted downwind, moving so fast that it was quite difficult to stop the dinghy as we approached the boat. But we managed to hang on and climb aboard, then made ready and weighed anchor, as usual a slow process in Cygnet as one has to remove lots of mud from anchor and chain. Not only did we have to motor down Port Cygnet, but when we turned East to head toward Bruny, we were still sailing to windward, and into rather lumpy seas, making things fall about the galley, always disconcerting. When we finally turned NE up the Channel, the wind died altogether. Because we'd been motoring so much, we put the diesel transfer pump on to move some more fuel into the day tank, then forgot it until diesel started to overflow into the cockpit. Helen then failed turning off the pump (wrong switch), so diesel continued to flow while the Captain did some advanced shouting. He then retired below to mend Stove, which had been misbehaving (the back burner wouldn't turn off). Finally the wind came up, but, you guessed it, from the NE again. However Rosie and Helen enjoyed a long stretch of tacking in light winds, doing 5-6kt with all sail set. By the time we reached Apollo we were going about very expertly, losing no or very little ground. We had a last night barbecue ashore, now becoming a standard feature of the Nahani experience.
We made our usual last day early start – headwinds again! We tacked up the Channel in a strengthening northerly. Once round Piersons Point the wind dropped and we motored and kept on even when the wind came up again, as it was right on the nose. By the time we went through the bridge it was very strong and the mate was envisaging the captain having to leap a widening gap as the boat blew off the jetty. Just in time the seabreeze came through so that we were being blown on, so much so that we had trouble getting the lines on and the captain and mate had to heave on the hull with all their weight to get the buffers where needed. We were berthed in time for lunch, and a reasonably leisurely afternoon packing, droping Rosie and the airport and Sake at the cattery, then going to the airport ourselves to head home for Christmas in Melbourne. [Top]
Michael and Bridget for New Year
Friday 30 to Saturday 31 December 2005
We returned to Hobart on Christmas night and retrieved the cat on Boxing Day. Steve and Chrisy Edwards, builders of Nahani, were coming to Hobart, so we spent a day cleaning the boat to their standard, before enjoying a visit from them on 28-29 December. On Friday 30 December, Peter's nephew Michael Chang and partner Bridget joined us – our first pregnant woman aboard. We set off late in the afternoon in a gusty NW wind which turned southerly, forcing us to tack down to Point Pierson. Once in the Channel the wind eased and went back to a very gentle ENE. So we had everything from belting to windward, reefed down, at about 7kt in the Derwent to a slow glide down the Channel with the wind behind us and all sail set. Michael is an enthusiastic windsurfer, and he enjoyed trying his hand at steering something a bit bigger.
The next day was grey and rainy, and started badly with a blockage in the marine toilet. The ship's engineer attempted resolution during the morning while the rest of the crew lazed, but he eventually gave it away and we made a slow but steady return to Lindisfarne, motoring much of the way in light or adverse winds. We berthed easily (getting better at it and the conditions were favourable), then went off to a New Year's Eve party at the Clarke's, watching the fireworks from their balcony in Salamanca. Michael and Bridget stayed one more night before heading off to explore more of Tasmania in their campervan.
The first days of January were seriously cold and unpleasant, with howling winds, but this gave Peter time to work on replacing the loo with a Lavac. He finished just in time for the arrival of our next guests on 3 January. [Top]
Liz and David Sonenberg's first ever sailing trip
Wednesday 4 to Friday 6 January 2006
Our next guests were Peter's friend and colleague from the University, Liz Sonenberg, and her husband David. They arrived on Tuesday afternoon and we went to see the sights in Salamanca, sample the Taste food festival and eat at Fish in North Hobart, before spending their first ever night on a yacht, fulfilling a dream for David. We set off mid-morning on Wednesday, motor-sailing down the Derwent into a southerly, then tacking slowly down the Channel, taking most of the afternoon. We anchored in Alexanders with rain threatening. David fished for flathead, but the two he caught were too small to keep.
The cool southerly wind persisted on Thursday, so we were motor-sailing and tacking again to get further down the Channel, across the mouth of Isthmus Bay and down past Pensioners Bay and Satellite Island. Liz and David had both been steering, gradually improving their tacking technique. David had the helm when we turned, and he held her all the way across through rising seas and wind. It was rough enough to ship quite a bit of water, especially as the waves were beam on. At one point a large wave sliced down the side deck and the mate, sitting on the cockpit coaming, ducked instinctively and so that a big lump of water hit the steersman, but he still looked as though he was having the time of his life. We threw one tack to dodge a fish farm near the entrance, then sailed into Port Esperance, suddenly getting into much calmer waters and less wind. We went round the north side of Hope, Faith and Charity islands, then headed back south across the bay to anchor in the shelter of Rabbit Island. The sun came out and we were warm enough to consider a barbecue on deck. We had about our third failure at getting an expensive charcoal-fired marine barbecue to work before turning back to cooking on Stove and eating below.
Liz and David were staying in Hobart on Friday night, so we didn't have a real time constraint, but we were away by 0630 to make sure we got back before dark. Motored out of Port Esperance on the south side of the islands, then had to keep motoring as there was no wind even in the south end of the Channel. We had a good run up past Huon Island and round the corner, but the rest of the trip up the Channel was in variable winds, so it was reefs in, reefs out, engine on, engine off, prop brake on, prop brake off, boat speed ranging from 0-7kt. Conditions were not much better in the Derwent, so we were motoring most of the way. A northerly sprang up just in time to make berthing at Lindisfarne tricky, but we managed well on the second circuit, after blowing too far off the jetty for Peter to jump ashore the first time. We cleaned up and went to Barilla Bay for a magnificent farewell meal, before dropping Liz and David back in town. Back at the MYCT Helen took Sake for a run, because he was a bit peeved about being confined to the boat again when he'd only just got his jetty and play area back. [Top]
Liveaboard life in Lindisfarne
Saturday 7 to Thursday 26 January 2006
We lived happily aboard Nahani in Lindisfarne for most of the rest of January. We each had some commitments in Melbourne, but we returned separately, with the other remaining aboard minding the ship's cat. Sake really liked Lindisfarne and regularly took himself for walks along the jetty to the carpark, where he explored the surrounding grass and parkland. We had a few desperate searches for him when he seemed to have stayed away a long time, but after a while we got more confident that he would return of his own accord eventually. The only problem was that sometimes he would come back on to the wrong jetty, and then, when he couldn't find Nahani, hop on to someone else's boat. He had our mobile numbers on a tag round his neck, and we had several phone calls which began "Have you lost a cat?", to which we'd reply, "Not really, but have you got him and would you like us to come and get him?" One caller then responded by saying, "No hurry – he's here watching television!" Another met Helen with Sake in his arms and was quite reluctant to give him back.
We had some non-sailing visitors in this period. The first wereRobin Margo, senior counsel on one of our Sydney cases, and partner Robyn McConchie arriving on 9 January. They had a drink aboard, went out to dinner with us, and then stayed the night on the boat. They had been bushwalking prior to their arrival in Hobart and we were amused because Robin, who is an experienced blue-water sailor, told us that he'd had trouble sleeping in a tent, but slept like a log on Nahani. In contrast, Robyn, who has no trouble sleeping out but to whom sleeping afloat was new, had a wakeful night.
Friend Janine returned for the weekend of 21-22 January, arriving early Saturday. The three of us took cousin Liv to the Boathouse for her 21st birthday, as her parents Claire and Gösta were on a trip to Antarctica, and we thought someone should show the family flag. Peter's old friend Max Burnet and partner Rosemary were in Tasmania on holiday and came for a drink and an evening meal aboard. Sunday was hot, so after a trip round Salamanca and a visit to Tasman Isle in Kings Pier to congratulate owner Rob on his marriage to Klaudia, we went to Seven Mile Beach for a swim and a laze (Helen did the swimming, Peter and Janine the lazing). We had a splendid meal at Barilla Bay before dropping Janine at the airport to fly home. The next day, Monday 23 January, Max and Rosemary returned for a day sail. We had a nice steady southerly breeze, so we criss-crossed the Derwent going into Sullivan's Cove, Bellerive, Little Sandy Bay, where we anchored for lunch, Ralph's Bay, then running with the wind behind us all the way up to the Bowen Bridge before motoring back to Lindisfarne, then going out for dinner. [Top]
Slipping with Steve at the RYCT
Friday 27 January to Sunday 5 February 2006
At the end of January we slipped the boat at the RYCT, assisted by Nahani's builder, Steve Edwards. The slip at Lindisfarne is barely deep enough for Nahani, so we put the cat in a cattery and took the boat across to the RYCT where bosun Ron pulled her out for us. Once out of the water we found the cause of a strange clunking noise we'd heard when motoring recently – there was a fishing line wound round the prop shaft, with a weighted lure dangling where it was hit by the rotating propellor blades.
Over the next week we did all the usual cleaning and antifouling jobs, polished the hull, made some improvements to the boom strut, and undertook the major project of installing a feathering propellor. This involved replacement of the prop shaft, which required the engine to be moved, so it was a non-trivial exercise. Helen was very relieved when the trusty Perkins was back in place, after several days delicately balanced on blocks to allow access to the shaft.
This major engineering project necessitated multiple trips to chandleries, machine shops, hardware stores, bearing services, fastening suppliers, purveyors of plastic hose... faithful Maisie Mazda took us all over Map 9 (in the Hobart Street Directory, the industrial areas of Derwent Park and Moonah are covered by Map 9, and "Map 9" has become shorthand for shopping for specialist hardware and services.) During one of our chandlery visits we were much taken with an inflatable kayak, and with Steve's encouragement, we purchased same to give us a fun alternative to the battered tinny which serves as Nahani's dinghy. We took a break from slipping tasks one evening to launch the kayak, named Fanno in honour of Helen's mum, and to take turns in trying her out. Pictures of the happy paddlers are in Fanno's maiden voyages.
After a week of living aloft, climbing rather perilous ladders to get aboard, we were pleased to put Nahani back in the water, although we had to pull her part way out to adjust the pitch of the new propellor. Steve's wife Chrisy joined us on Friday evening, and was with us for the re-launch. Once in the water we found the prop was going to need further adjustment, so we returned to Lindsfarne under sail. The next day we returned briefly to RYCT to be pulled part way out yet again for final adjustment. Chrisy left early that morning, but Steve stayed another day to finish off some tasks before heading back north to their farm in Rocky Cape, leaving early Monday. Peter and Helen had a short morning to finish tidying up before the next guests arrived. [Top]
Anne and Jim Warren
Tuesday 8 to Friday 11 February 2006
Our next guests, Jim and Anne Warren, arrived late morning on Monday 7 February, just after we returned to Lindisfarne after slipping Nahani. Jim is an academic from USA who was on the Council of the Royal Society of Victoria with Peter. His wife Anne has lived and worked in lots of far-flung places, including Africa and Kiribas. When they arrived the weather was threatening so we stayed in port, eating, drinking and talking. The Blichfeldts, Claire, Gösta and Liv, joined us for dinner aboard. On Tuesday we set out for a leisurely sail down to Barnes Bay, tacking into a SW wind in the Channel. Once anchored in Alexanders we decided to explore Barnes in the dinghy, but couldn't get the outboard to start. Despite hours of effort by the ship's engineer we couldn't get it going reliably so gave up the idea of a late afternoon excursion and had tea. The outboard failure caused complications as the mate had to return to Melbourne the next day, and the plan had been to take her round to the Bruny Island ferry terminal in the dinghy early next morning. Instead we motored across the Channel to Kettering in Nahani timing our arrival to match the ferry as we'd already organised a taxi to meet us at the ferry wharf. We planned to drop Helen off at the public jetty, but there was a cray boat already there. Peter did one circuit, enjoying the improved manoevrability provided by the new prop then rafted up to the cray boat. With Jim's assistance, Helen stepped over to the gunwale of the cray boat, then climbed over craypots piled two high to get ashore and into the waiting taxi. Meanwhile Peter and the Warrens motored back out of Kettering and sailed down the Channel and round to Port Cygnet. With the cook away, they rowed ashore and walked into Cygnet for a meal at the pub. George from the IGA gave them a lift back to the dinghy and they rowed back out to Nahani.
The mate is also the logkeeper, so reports of the next two days are scanty. They returned from Cygnet to Alexanders on Thursday, then back to Lindisfarne on Friday. The guests may have to provide their own contribution to expand this story!
The Warrens stayed one more night in port, and the captain then had the boat to himself for four more days before the mate returned from Melbourne, then we had two more days of finishing off post-slipping tasks and getting ready for the next sailing trip. [Top]
R & R - just us
Saturday 19 to Monday 20 February 2006
Our next trip was a short get-away on our own, to take it easy and finish off some post-slipping jobs in Alexanders. We began in a light northerly, which turned into a southerly seabreeze past the Garrow. We tacked down the Derwent at over 8kt (she goes well with a clean bottom), then down the Channel at a steadier pace. Tacked through Barnes Bay to the Duck Pond then returned under jib alone back to anchor in Alexanders. We spent Sunday there, cleaning, tidying and fixing. We lent a set of Allen keys to Scott on Missguided, but he still couldn't fix an engine problem, and saw the Butterfields, whose berth in Constitution Dock we'd rented in the previous winter, when they sailed past in Maybe. Inflated Fannofor a late evening paddle.
We had a good run back up the Channel, with some fast sailing into a NE wind. In the Derwent the wind was N/NW and we rocketed up to the Garrow light, then found ourselves trying to tack into an even stronger northerly. We eventually gave up on trying to sail and motored back under the bridge to Lindisfarne, where gerthing was exciting as we were blowing off the jetty very rapidly. The mate did well, getting close enough with some prop walk for the captain to jump ashore and get a line on, but it took two of us to haul her in from about 2m off the jetty. we were quite weary. The captain had to fly back to Melbourne on Tuesday morning, and the mate and the ship's cat kept each other company until he returned Thursday evening. [Top]
Last Tassie trip: Nubeena, Norfolk Bay, Barnes Bay
Friday 24 to Tuesday 28 February 2006
We had decided to revisit Norfolk Bay for our last trip, but after a slow run motor-sailing down the Derwent in a light northerly, the wind shifted to the E, and we decided to continue on a long beat down to Wedge Island, rather than tack round Betsey. A pod of dolphin came to play en route. The captain demonstrated that in 20kt Nahanigoes faster with two reefs than she does with one. After a couple of tacks between Raoring Beach and Wedge Island we motored into Nubeena. We were circling round the north corner of the harbour, trying to get a feel for depth, when a tinny with two blokes and a boy hove into the bay and came over to us. "You weren't thinking of stopping here" they said, once alongside. They explained there were reefs all around us and suggested we use a mooring, pointing to one further into the harbour. "Whose is it?" the captain asked, cautiously. "Me mate's" was the reply, and when asked what was under it, the equally laconic response was, "Three train wheels". We chose to anchor near another cruising yacht, just in case "me mate" came back. Nubeena is a very sheltered and safe anchorage, which was as well as the wind went to the north and blew hard until about 0430 next morning.
Helen launched Fanno for an early morning paddle, then we both went ashore in the dinghy after breakfast. We explored a community op shop/library, bought provisions and the paper in the supermarket, had lunch at the bakery cafe, strolled along the beach and then rowed back to Nahani. The ship's engineer managed to get a reinforcing patch cut, glued and pop rivetted on the dinghy before rain came in the afternoon. We spent the rest of day and evening below deck out of the cold and wet, reading, eating and drinking.
We had a busy day's sailing the next day. We began by motor sailing out of Nubeena into a rather lumpy Storm Bay. Once we turned north we put up the jib and made good speed up to Sloping Island and the Flinders Channel, in rather rolly conditions. Added a double-reefed main as we turned more southerly and more to windward and tacked down Norfolk Bay, with the sort of conditions where each tack seems to get progressively less favorable. But we finally had a tack which took us into the mouth of Little Norfolk Bay, where we struck sails and tried to find our way under motor up the very narrow channel between the shoals on either side. A trailer sailer was tacking in and after dodging it a couple of times we decided the whole exercise was too difficult and headed back out again, nearly running aground in the process as we couldn't retrace our route exactly. We drifted out, then motored once we were in reasonable depth, then sailed across to Impression Bay. This is a lovely spot, and although it is exposed it was quite calm until the wind went round to the north at about 0500 next morning, from which time we were rocked gently.
On Monday we woke to a beautiful sunny morning and enjoyed breakfast on deck, before setting off at about 1100. We motor-sailed most of the way to Alexanders, with a period of good sailing as we went south to Betsey Island. Tuesday brought threatening grey skies again, and we waited a bit in the hope of a southerly change. Set off in a fitful westerly, taking ages to clear Barnes Bay but then making good time up to Point Pierson. Once round in the Derwent it was very gusty off Kingston Beach, so we dropped the main and proceeded more slowly under staysail alone. Put the jib up again between the Garrow and the bridge, then struck the sails and motored into Lindisfarne for another tricky berthing in strong winds. Peter just managed to pick up the line from the jetty with the boat hook, as it was too risky to try to jump ashore. That was our last local sail for the summer of 2006. Early in March we made flying visits back to Melbourne, and spent the rest of the time until mid-March preparing for our next major voyage (Hobart to Melbourne 2006). [Top]